just some quick screenies I took this morning using QB64.
Note that the text looks a little funky because the incomplete incorporation of the DRAW statement in QB64 as of yet. I'm told this will probably correct itself in the next incarnation of QB64.
Just showing off mah purdy gfx..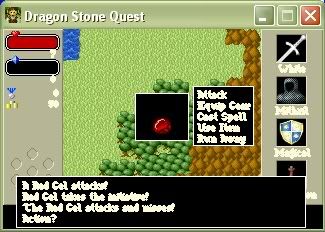 The game is playable but you run out of things to do after about 10 minutes. Longer if you're playing for the first time of course. I plan to have a downloadable package available soon to allow people to have a look. I'm debating wether or not to include the editors with that. If I do it would let you create your own tiles, maps, monsters, items, weapons; pretty much everything except the placement of things and interactions within maps, because that's done in the actual code itself.
K, lemme know first impressions based on screenshots. All questions and criticism welcome.